Change Management
Best practices
| | |
| --- | --- |
| | A Positive Revolution in Change: Appreciative Inquiry |
Appreciative Inquiry: an act of exploration and discovery.
Appreciative Inquiry is about the search for the best in people, their organizations, and the relevant business environment around them. In its broadest focus, it involves systematic discovery of what gives "life" to an organization's eco-system when it is most alive, most effective, and most constructively capable in economic, business and strategic terms. It is also termed as the act of recognizing the best in people and processes within organizations; affirming past and present strengths, successes, and potentials; to perceive those things that strengthen existing processes and human capital.
AI involves the art and practice of asking questions that strengthen a system's capacity to apprehend, anticipate, and heighten positive potential. It centrally involves the mobilization of inquiry through the crafting of the "unconditional positive question" often-involving hundreds or sometimes thousands of people.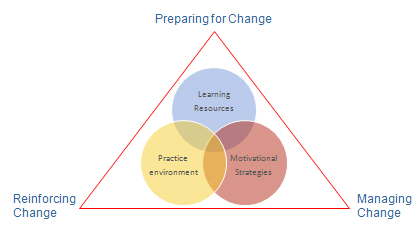 In AI the task of intervention gives way to the speed of imagination and innovation; instead of negation, criticism, and spiraling diagnosis, there is discovery, dream, and design. AI seeks, fundamentally, to build a constructive union between a whole people and the massive entirety of what people talk about as past and present capacities: achievements, assets, unexplored potentials, innovations, strengths, elevated thoughts, opportunities, benchmarks, high point moments, strategic competencies, stories, insights into the deeper corporate entity -- and visions of valued and possible futures.
Taking all of these together as a gestalt, AI seeks to work from accounts of this "positive change core"—and it assumes that every process and insight has many untapped and rich and inspiring accounts of the positive. Link the ideas of this core directly to any change agenda and changes never thought possible are suddenly and democratically mobilized.
AI has a proven record of success in a wide variety of strategic initiatives.
STRATEGIC PLANNING

Customer Service

Employee Retention

Corporate Sustainability

Marketing and Branding

Merges and Partnerships

Corporate Sustainability

ORGANIZATIONAL CHANGE

Whole Systems Change

Culture Change

Change Leader/Development

ORGANIZATIONAL LEARNING AND HUMAN CAPITAL DEVELOPMENT

Innovation and Creativity

Diversity and Gender Programs

Knowledge Management

Diversity and Gender Programs

TEAMING AND COLLABORATIVE SERVICES

Team Development

Collaborative Networks

Partnerships and Alliances

PHILANTHROPIC AND SOCIAL CHANGE

Social Action

Corporate Social Responsibility

LEADERSHIP SERVICES

Executive Coaching

Life/Career Coaching

Leadership Development
Related information:
Arcus Change Managememt (ACM) Methodology