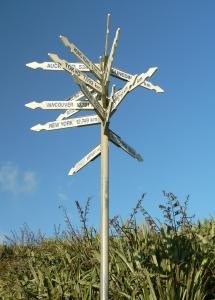 Arcus Innovation Leaders Series: Growth strategies in a recession. What does it take to innovate in a challenging economy? The majority of executives make it to top positions by being very good operational managers: meeting sales objectives, improving products and services to keep up with competitors, supporting existing customers and acquiring new ones, and so on.
Arcus' multi-industry survey of over 1500 senior executives found that of all the challenges companies face in this area, the biggest challenge is finding ways to create a "climate for innovation". Management is about business results and processes. Leadership is about people. The key quality you need in good leadership is passion—the urgency to attack and solve the complex problems that all organizations face.
Download a synopsis of the Arcus Innovation Leaders Report. Read some of the interviews. Contact Arcus to find out how to benchmark your innovation strategy
Arcus Innovation Series
The Arcus Innovation Series is based on indepth interviews with over 1500 senior executives from orgnaizations like Siemens, Unilever, Domtar, Canada Foundation for Innovation and Maple Leaf Foods.They argue that leadership is about having a vision for innovation and creating a framework for action around the vision to allow partners and employees to pioneer new ways of working.
Contact Arcus to find out how to benchmark your innovation strategy in these uncertain times:
 A presentation on best practices from 1500 companies
 A culture change audit
 An innovation workshop
 An innovation strategy
Arcus research indicates that to create a culture of innovation, you need to be surrounded by highly talented people, and you need to find a way to transmit your passion to them, so they will buy into your vision of the future, perform at the highest possible levels, and come up with innovative solutions to the challenges of achieving the vision. No surprise, then, that the topic of innovation has been gaining ground as CEOs seek to incorporate concepts like "a culture of innovation" into their assessments of a company's long-term value.
Our research of indicates that in past recessions (1982–99), companies that invested in growth emerged stronger and increased their value significantly compared to before the economy declined.  these companies made growth oriented strategic choices that may have defied conventional wisdom at that time. They increase their stock market valuations relative to those of their former peers and thus gain more power to shape their industries. Arcus research indicates that companies that focused on five key strategic initiatives to either remain industry leaders (those that stayed in the top tier of performance in their industries) or became successful challengers (those that moved up into the top tier). These companies continued with their strategies and did not take drastic turns both during the recession and in healthier economic times.
1. Maintain growth initiatives: As the economic pressure mounts, managers tend to focus on dramatic cut backs in areas that may be termed as "discretionary" initiatives that don't correlate directly with lower operating costs. However, this myopic view severely erodes the momentum for growth when the economy turns around. Successful companies use five tactical levers to reduce their spending— and align themselves with growth oriented approaches and therefore more effectively address the needs of their most profitable customers' needs.
2. Invest in your most valuable customers. The Pareto principle applies in a recession too. It is important to ensure that the customers who generate significant revenue for your company continue to see value in your products and services. A value oriented approach will reinforce loyalty that may have been strong during periods of economic growth identify these customers and focus on understanding their concerns and shifts in their priorities. Preempt potential value gaps by addressing these priorities before your organization is asked to so so.
3. Control spending. During tough times, companies and customers tend to take broad measures to cut back on spending. Technology and other pivotal areas tend to lose significant momentum. Change becomes a secondary priority. This is the tactic most employed by companies as they attempt to reduce their overall spending and attain some level of predictability in uncertain times. At its most extreme, control of investments may amount to a complete scale back of some growth oriented initiatives.
4. Seek customers who recognize value. Customers under pressure tend to be more critical about where they invest their resources and what, exactly, they are getting in return, approaching value oriented services with a new degree of skepticism. For larger investments, customers may turn to more in depth research to compare offerings to better assess the exact product features in which they are interested. Successful companies tend to can respond by clearly articulating specific features that drive value of their offering. The research also suggests that companies that adapt quickly with highly customized solutions that strengthen their perception of value tend to be more successful.
5. Procure smarter. Successful companies tend to focus on strategic alliances with companies that are aligned with the needs of common customers. An in depth understanding of the value chain of a customer can yield significant dividends in terms of lower costs derived from collective action to integrate products and services for common customers. An example is the strategic alignment of auto parts manufacturers such as Magna with acquisitions of automotive companies such as Opel in EUrope. With Recession-stressed customers who want to continue to look for heightened levels of value, a good price is often the only priority. While this tactic appears in most categories,over 75 percent of respondents rank "smarter procurement" as their top tactic. Smarter procurement policies take advantage of new channels, such as the Internet and emerging discounters, to find the same product at a lower cost and are often content to wait for better offers. Successful companies need to target their offering at the right customers and are visible across marketing channels at the right time with aggressive competitive intelligence.
The Arcus report suggests that, with long-term trends pointing to continued pressure on companies earnings capacity, it is likely that many of these new approaches will become permanent tactics for most customers. Successful companies tend to look beyond mere survival and adapt their offering and marketing to these new tactics position themselves most effectively not only during the recent downturns but are most likely to do so in the recovery after this recession.
Contact Arcus to find out how to benchmark your innovation strategy