Digital Women are one of the largest connected demographics. This is especially true for Millennial Moms. And yet most marketers haven't figured out how to engage them or target this consumer segment. Marketers think of Millennials as those in university or just entering the workforce. However, this demographic is much wider – 18-34 olds- born between 1978 and 1994.
A new report from Arcus titled "Digital Women: The biggest untapped Marketing Opportunity", identified millennial moms as the most overlooked marketing segment of all mom demographics. Digital Women and especially Millennial moms are a distinct marketing segment. Unlike other moms, she is hyper connected- with 18.9 hours of time spent on social media each week- 5.4 hours more than the average mom. She also has 4 social media accounts compared to 2 accounts for the average Canadian mom. Arcus has developed a comprehensive best practice guide to help marketers shape their strategies to engage moms.
Digital moms – the numbers
There are 4.08 million Canadian moms with children under 18 years. The average age at first birth – 28.5 years—is the oldest recorded to date. The modern time frame for childbearing has become increasingly concentrated around age 30. Statistics Canada states that many women are having fewer children overall, and therefore, are concluding their childbearing in a relatively short time span. About half of Canadian moms (2 Million) are Digital moms and a fifth (800,000) are Millennial Moms. Another interesting data point is that over a third (36%) of Millennial Moms appear to be in a different life stage than all moms with kids. A third are single or not living with a partner compared to a sixth of all moms.
With $80 billion of economic activity each year, digital moms are a significant marketing opportunity. Especially for three segments- house related products, family health and fashion. Retail, financial services and healthcare are three sectors that can tap into this segment with targeted marketing strategies.
Sharing and Seeking advice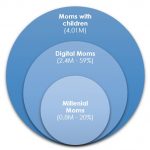 The most important reason to target Digital Moms, especially Millennial Moms, is because they are vociferous consumers and sharers of advice within their social networks. They are not bloggers to the world. They are more likely to have deeper relationships within their social media eco-system. Brand loyalists can have a disproportionate influence on sales because these consumers disseminate frequent endorsements of brands that resonate with them. 95% of Digital moms say they share views with other frequently on key topics – retail stores, fashion and groceries. This segment is also the most financially literate of all moms with kids. 65% of digital moms say they share and seek advice with their peers on financial products and services.  Millennial Moms recommend products 15 times a month compared to all Digital Moms (12 times a month) and all moms (7 times a month). Digital moms are also most likely to seek advice before making brand choices. In fact, 85% of those surveyed by Arcus say they regularly seek opinions on brands before making purchase decisions.
---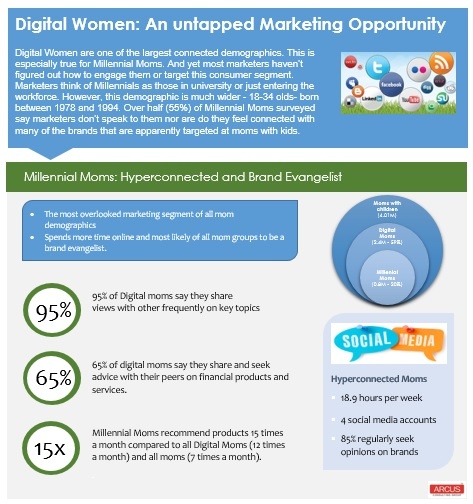 ---
Marketers don't speak to them
Over half (55%) of Millennial Moms surveyed say marketers don't speak to them nor are do they feel connected with many of the brands that are apparently targeted at moms with kids. Tapping into this segment comes with significant challenges. They are highly skeptical of marketing messages and seek to validate their brand choices. 55% of moms 18-34 say that marketing messages do not speak to them.
Implications for marketers 
Millennial Moms are a fairly fragmented group- ranging from rural homemakers to busy urban executives- each sub-segment has its own subtle style, preferences and regional nuance. A third identify themselves as employed full-time and another third say they are homemakers. They are a fairly busy group and are looking for help to organize their lives around their kids. They are also constantly looking for new and innovative solutions offered by products and services. Brands that speak to their needs are likely to see a dramatic uptick in revenue because brand loyalists can become avid marketers for products they like.
Contact Arcus for a presentation of a synopsis of new Arcus report – "Digital Women: The biggest untapped Marketing Opportunity" at your next weekly team meeting. It should take about 15-30 minutes.