Are you a Chief Marketing Officer? Well, prepare to become obsolete. Unless you re-brand yourself as the Chief Loyalty Officer.
The top driver of sales today is loyalty supported by a unique set of beliefs and values. It has become foundational in many categories as the challenge of maintaining market share and constantly having to redefining your value proposition has resulted in an almost impossible job for most marketers. But there is hope. Today, many brands generate significant top line revenue growth by maintaining captive and loyal customers rather than by acquiring new customers. You see, the average life of a product today has declined from 36 months to just under 9 months over the past 5 years.
Reinventing products
Innovative companies are constantly reinventing their products with new ingredients, technologies and more nuanced changes to excite and engage customers. The result for them has been dramatically lower marketing costs and a strategy that's driven by product innovation- the glue that keeps customers coming back for more.
Apple (yes, another reference to this innovator!) has grown its revenue by ensuring its most loyal customers are willing to pay hefty premiums for its new product introductions. Companies are doing this by anchoring a core product (e.g. Apple's iPhone – 74.5 million new phone sales in the last quarter) with the customer and then surrounding them with other dazzling offerings that stem from the core product. In the case of Apple, it's their iPay, iWatch, iTunes, etc. All these satellite products reward customers with a much richer product experience. And all of them deliver far greater value because of the existence of the iPhone.
So how can you transition from Chief Marketing Officer to Chief Loyalty Officer?
Stop the one-sided communication to consumers. Today, consumers expect conversations, not not one sided messages from companies. They have become highly skeptical about marketing messages. They want to experience products and then share, talk, discuss and debate their experiences with others. The brand is a means to an end. Marketing has been relegated to informing consumers about what's new. And the product story and social media need to take over from there to dazzle the most loyal consumers and make them evangelists for the brand. The best brands today define who the consumer is and not the other way round- I am who I am because of what the brand makes me.
An example of defining a unique set of values is Chipotle in the US. A&W in Canada is taking some steps in this direction too – with great results in sales. They sell hormone and antibiotic free fast food. It's all about building trust and transparency right down to their cheese that comes from pasture-fed cows.
They have incorporated social consciousness in their thinking with their "Cultivating Thought" initiative that includes captions from writers such as Toni Morrison and Malcolm Gladwell on the company's cups and on a dedicated website. The idea came from a consumer. Not from Chipotle's CEO or CMO. It came from Jonathan Safran Foer, a writer who had nothing to read at a Chipotle during a recent visit to the restaurant and suggested that meaningful messages on their cups would be a good way to engage customers. Chipotle's approach is about strengthening the quality of the conversation with consumers, starting with an act of good faith.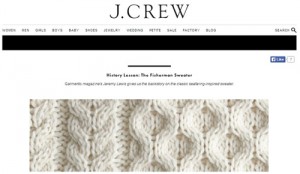 Crew is another company that has focused on telling stories that reflect its values. A recent one being about the history of the J. Crew fisherman's sweater, supported with stories from a nature photographer about traveled around the world in a fisherman's sweater. The essay's content is eloquent and informative and includes a guide about caring for cashmere sweaters.
"Though often likened to a Scottish kilt, the Aran sweater is actually a modern invention, created by Aran Islanders who embellished a classic staple with local flair to sell as their own. Unlike most gansey sweaters, Aran ones feature a rich array of stitch techniques."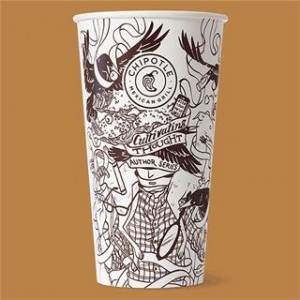 Start great conversations with consumers
So next time you talk about a marketing strategy, consider this: first, consumers have more choice than ever today. Second, consumers are more likely to switch brands today that ever before. And third, marketers are no longer the originators of conversations about brands. So if you don't win the trust and loyalty of consumers, you can be assured that your brand will be an endangered species in a few years- just like today's Chief Marketing Officers.
The key to great conversations with consumers about brands has more to do with how you make consumers feel about themselves. It is less about what a company should say about themselves.
---
Please contact us for a complimentary presentation on a business problem your team would love to solve.