Penetration levels of "wearables" and other smart devices are accelerating, thanks to the proliferation of the number of applications of these technologies from climate control, to fitness products such as FitBit. Wearables is a term for devices worn by a person with scanners and sensors to augment functionality of products. These technologies can be embedded in a number of accessories including shoes, glasses, wrist bands, or clothes. There appears to be a significant shift in the functionality of products. They have become more seamless and embedded in consumer activities offering more engagement and ease of use.
---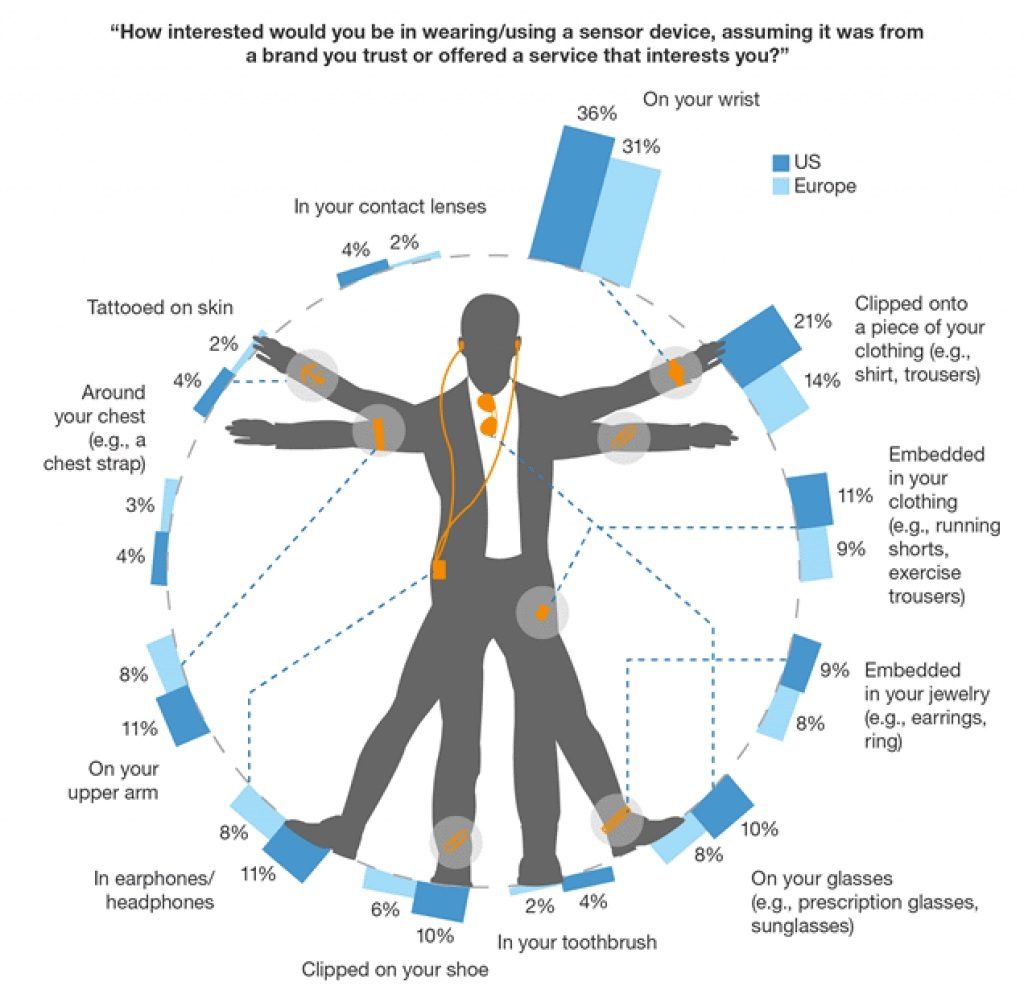 ---
Shipments of wearables will increase dramatically
The shipment of wearable devices was 85 million units the US and about 6 million units in Canada last year. Worldwide shipments are expected to reach 105 million next year, with a growth rate of over 30% per year. Arcus projects a growth rate of over 20% to about 22 million units worldwide by 2020 within the next decade.
Arcus expects shipments to increase to 265 million units and wearables markets to be worth over $32 billion by 2020 at a CAGR of about 18%. A key driver of wearables will be its capacity to leverage rapidly evolving "Internet of Things" (IoT) technologies. The transition from big data into super data will have a dramatic because super data will take a human-centered design approach and interpret information to deliver insights. Such an environment will create a highly intuitive and seamless user experience. The business to business (B2B) market is likely to be dramatically impacted by the scaling of wearable technologies especially in patient monitoring, fitness, distribution, and retail.
---
What trends will change?
Today, the consumer product focus of wearables is essentially on wrist-worn devices (92% wearables market share). The potential for wearables to be pervasive across apparels, accessories, hearables, VR (virtual reality) and eyewear will change the way consumers work and play.
Arcus projects that the topline growth of wearables will be driven by eyewear and clothing over the next decade with the share of wrist-worn devices such as fitness trackers dropping to 75% with eye wear driven by Smart contact lenses will account for a share of 45% of wearables, driven by augmented reality applications of brands such as Facebook and Google – Microsoft's Holographic, Google's Glass and Garmin's Varia Vision and Project Genesis from VSP Global. Wearables in the clothing sector are also evolving with innovative products from Hexo Skin and OMSignal.