There are diverging narratives when it comes to sizes of companies in Canada. Big companies have massive advantages in the current environment as everyone else struggles to keep up. The Canada Emergency Business Credit Availability Program (BCAP) of $65 billion will help with direct lending to small and medium-sized businesses. But many small businesses are unlikely to qualify.
Small businesses were shuttered but government stimulus has made its way to big retailers. This is true in the US too where Amazon and Walmart reported blowout quarterly numbers. The stimulus might as well be called the Big Company Act.
It is true that small firms create a lot of jobs, but they also destroy almost as many, because they are much more likely than big firms to go out of business or shrink. This is why from 1993 to 2010, small firms with fewer than 20 employees were responsible for 29 percent of gross job creation but only 15 percent of net job gains. In contrast, firms with more than 500 employees were responsible for 26 percent of gross job gains but 38 percent of net job gains. This is also why almost two-thirds of new jobs since 1990 have been in firms with 500 or more employees, even though those firms employed just 42 percent of workers. As of 2015, really big establishments—those with 5,000 or more employees—were 4 times less likely to lay off workers than those with fewer than 250 employees.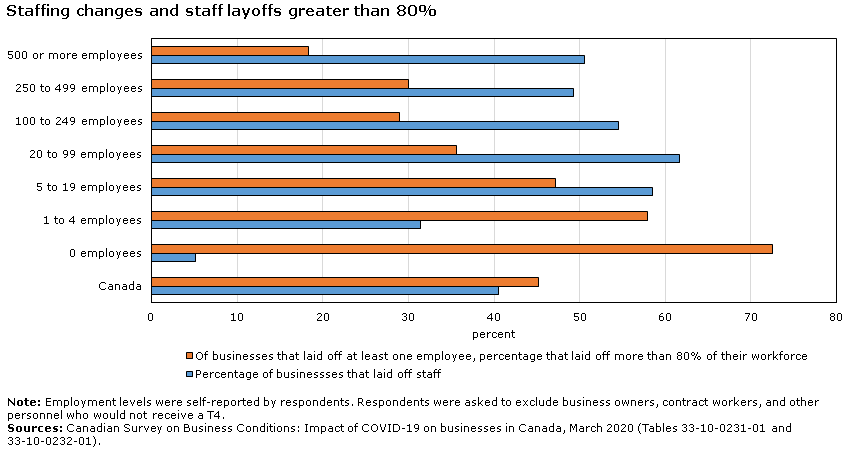 There are some unintended consequences here. The strong are getting stronger. This is inevitable. The future doesn't look any different. It's just being accelerated faster. Being small doesn't mean being nimble. Small businesses struggle to adapt and reshape because of limited financial buffers.
32.0% of businesses with 500 or more employees reported declines in revenue of 20% or more. This figure almost doubles for smaller businesses where nearly 60% of those with 1 to 4 employees and nearly 56% of those with 5 to 19 employees reported declines in revenue 20% or more.
Credit: Small businesses were more likely to request credit from financial institutions to cover operating costs due to COVID-19.
40% of small businesses with 5 to 19 employees reported that they requested credit from a financial institution, while nearly 31% of small businesses with 20 to 99 employees requested credit from a financial institution.
Where is the innovation happening? Most of us think it's happening at startups. Is that true?
Government policy hasn't helped. Big box retailers stay open because they sell essential goods, but they also sell the same nonessential goods that small stores — who were forced to close — normally do. Governments have done a poor job ensuring a level playing field.