Performance Management: An Arcus survey of 1,855 senior executives indicates that performance management (PM) is a key concern for 95% of respondents because of a misalignment ofjob responsibilities and positions of employees. 
An important result of a robust PM system is higher morale and productivity. And yet, just 25% of organizations have metrics to deliver ongoing visibility.
An assessment and alignment of job responsibilities, salaries and actual work being done in positions is required to recognize good performance and to monitor and report the achievement of employee goals.
---
Business Productivity consulting services
Business Productivity consulting services: A key driver of performance for both leaders and organizations in today's challenging business environment has been leveraging technology as an enabler. Yet, most businesses don't have the visibility and understanding to make informed decisions about their IT strategy. With so many technology options available, and features and benefits offered, it is no surprise that organizations are concerned about how to deploy resources cost effectively and efficiently.
Arcus approaches these challenges through the lens of  growth strategies – we strive to answer the key question: "What will it take to achieve a specific growth rate?". Most businesses focus on obvious opportunities but need to dig deeper to identify long term opportunities that others haven't uncovered as yet. Learn more.
---
The challenge is organizations have not invested or seen a a clear and tangible impact of their performance management plans. Why is there such a significant gap between the importance of performance management plans and actual outcomes delivered buy organizations?
Employees need to understand and believe in the culture of the organization. This is only possible if the culture includes a robust reward and recognition plan that may include pay-for-performance. The process of linking an organization's success with individual and team compensation plans is an important step to align priorities of employees with those of the organization. This process includes defining, deploying, measuring and rewarding achievable performance goals.
---
Arcus Performance Management system
The Arcus performance management system is based on a four step process that includes organizations inputs, sets expectations, deployment and monitor and measure and recognize.
Organizational inputs
The process starts by defining the strategic plan's goals and how these goals impact individual job descriptions and are aligned with the mission and values of the organization. The job description of individual staff members needs to developed in context of team dynamics and the broader organizational structure. A key driver is position evaluations. Three key components include knowledge, application and impact of each position.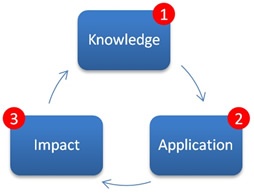 Arcus has developed a points system that assesses over 40 individual and functional skill sets based on a five-level process in these three areas. The job responsibilities, job description, combined with the organizational design provide a foundation to develop a salary schedule, which assigns a value to points based on the level, skills and capabilities required to perform the responsibilities assigned to a position. Based on the points achieved, the position is assigned a level. In the example below, the position of Operations Manager scored 38 points which assigns it to the level L1C.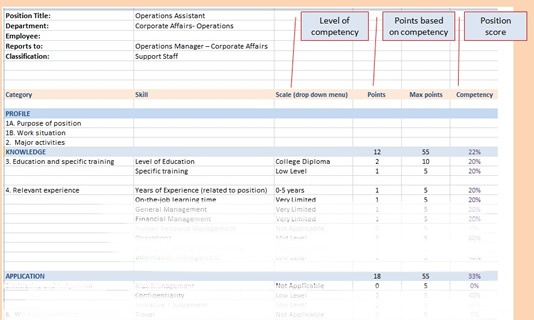 Set expectations
It is critical to define core responsibilities of staff members and align these responsibilities with individual goals and development plans. Arcus has developed a proven framework that has been deployed on many performance management projects. The process is informed by what works at specific types of organizations than have unique situations with regard to their business and market needs.
Deploy and monitor
This step involves individualized mentoring and training, regular monitoring and feedback cycles to ensure employees are aware of their training needs, progress and receive ongoing input on how to develop their skills to enhance their productivity and deliver against the strategic plan.
Measure and recognize
An important step in the impact measurement process is to ensure that right metrics are being reviewed. Often standardized assessments forms are used that are not aligned or reflective of the core responsibilities of individual staff members. It is critical that assessments reflect specific goals, job responsibilities and performance measures that are then aligned with rewards, compensation and recognition.
If you are interested in discussing a performance management plan to transform your organization, please contact us.