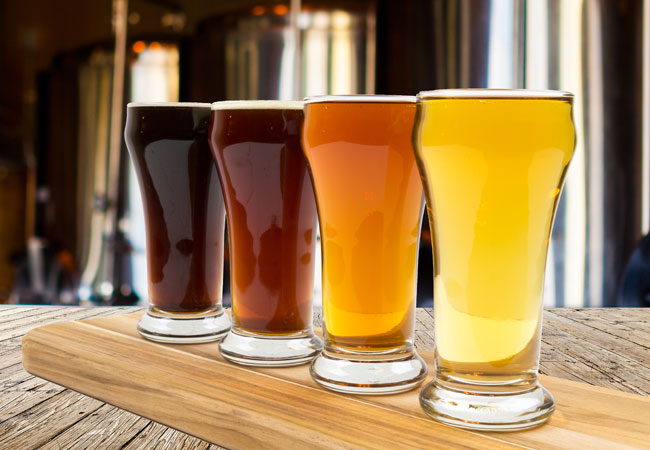 An interview with Mr. Josh Hayter, President, Spearhead Brewing Company in Kingston, Ontario on Contract Brewing and Craft Beer.
---
What does it take to innovate?
The majority of executives say it involves achieving technological leadership, global presence and a comprehensive portfolio of patents that will enable the company to help define major trends regarding products, systems and services, and to offering its customers important added value. They say such steps reduce costs, increase sales and achieve higher earnings. But how does one come up with new solutions, and can innovations really be part of a strategy plan? Arcus' multi-industry survey of senior executives, conducted with the Canadian Marketing Association, found that of all the challenges companies face in this area, the biggest challenge is finding ways to create a "climate for innovation".
As Arcus research indicates, doing so means that you need to be surrounded by highly talented people. It also means finding a way to transmit your passion to them, so they will buy into your vision of the future, perform at the highest possible levels, and come up with innovative solutions to the challenges of achieving the vision. No surprise, then, that the topic of innovation has been gaining ground as CEOs seek to incorporate concepts like "a culture of innovation" into their assessments of a company's long-term value.
---
Introduction: Is the Craft Brewery market growing?
The culture of beer is changing in Canada as per capita consumption drops. Beer Canada statistics show beer sales fell 4% in 2019, the most significant drop since Prohibition. The shift towards flavour over volume is an advantage for craft brewers as they have the capacity to provide a broader diversity of taste to satisfy consumers.
Over 90% of breweries in Canada are small, local operations. They produce less than 15,000 hectolitres (or about 176,000 cases of 24 12oz beers) a year. Their success has been driven by authentic and quality brews, winning over consumers by introducing them to flavourful and innovative styles of beers.
Beer in 2019 realized positive gains on some fronts, while facing challenges in other areas. The number of brewing facilities increased by 12.9% from 995 in 2018 to an all-time high of 1123 in 2019. Most of Canada's breweries are small, local operations with 94% producing less than 15,000 hectolitres of beer. Nationally, the number of brewing facilities per 100,000 drinking age adults increased by 11.0% from 3.4 to 3.7 for the year. Provincially, New Brunswick led the way with 9.5 breweries per 100,000 drinking age adults, followed by PEI with 8.0 and Nova Scotia with 7.5, while Manitoba at 1.5 breweries per 100,000 drinking age adults had the lowest rate.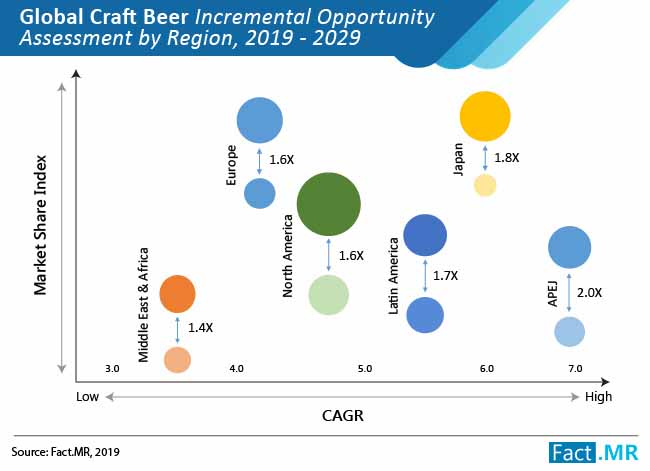 Domestic production was also up for 2019, having increased by 4.2% to 22.5 million hectolitres. Growth did not extend to total national beer sales which declined by 3.0% in 2019 to 21.4 million hL. Looking at sales split, domestic beer sales declined by 3.9% from the previous year, somewhat offset by import beer sales which increased by 1.5%.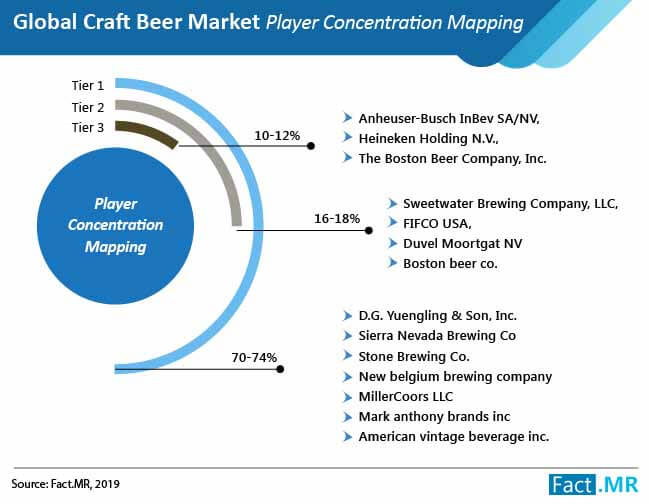 Beer continues to have a substantial impact on Canada's economy. Conference Board of Canada figures show beer supports 149,000 Canadian jobs, with a labour income of $5.3 billion while contributing $13.6 billion to Canada's GDP. This impact is due in large part to the domestic nature of Canada's beer industry. In 2019, 85% of the beer consumed in Canada was brewed in Canada.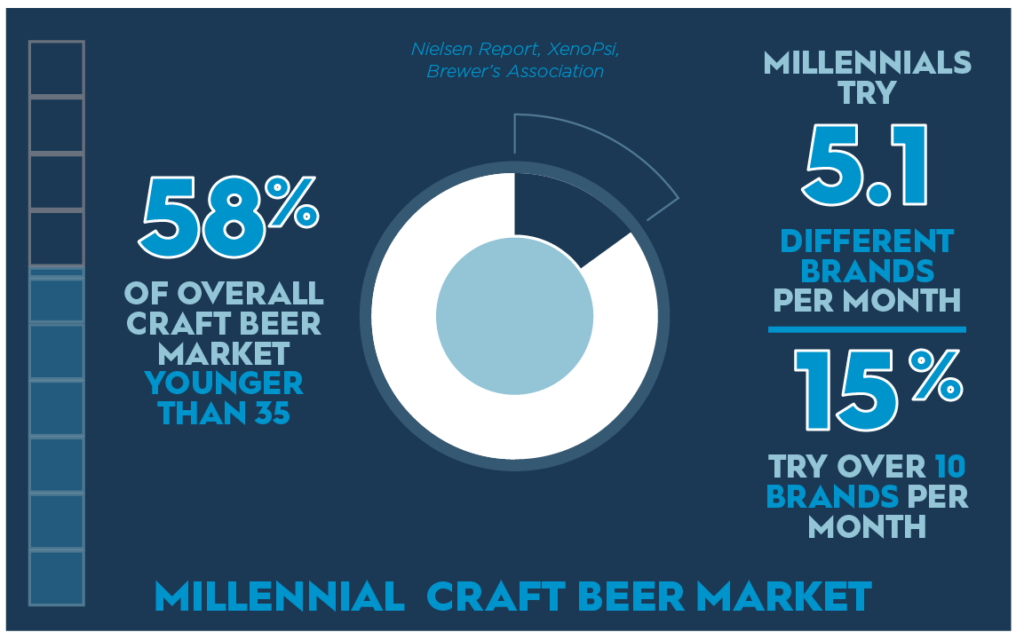 In 2019, Canadians of legal drinking age consumed on average 71.2 litres of beer, a decline of 4.6% from 2018. Provincially, Newfoundland had the highest per capita consumption at 87.4 litres of beer, followed by Quebec with 80.5 and P.E.I with 76.7 litres. Ontario had the lowest per capita consumption of all provinces at 66.1 litres.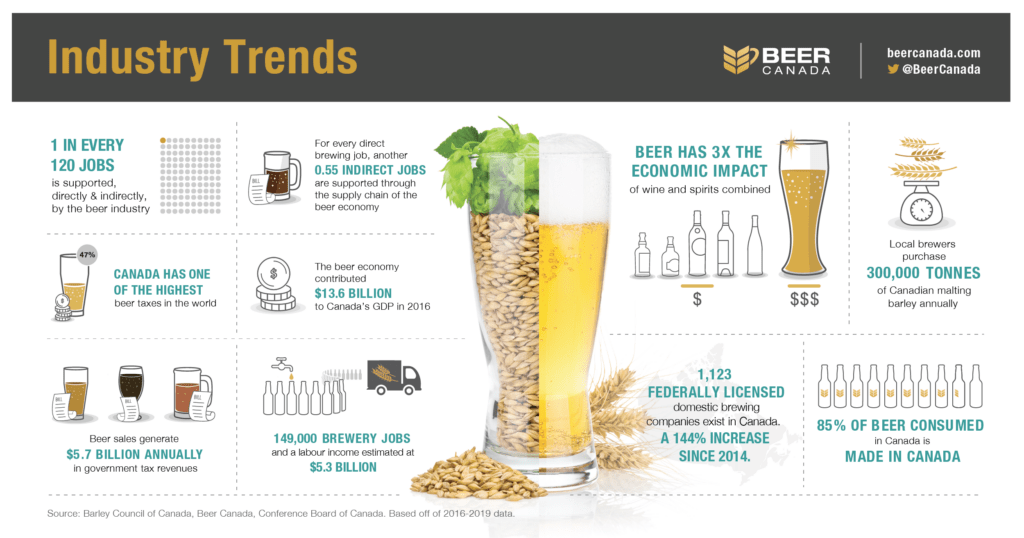 Canned beer continued to grow in popularity. In 2019, national can sales increased by 1.6%, while bottle sales declined by 13.1% and keg sales fell by 3.9%. Cans accounted for 65% of national beer sales, followed by bottles with 25% and kegs with 10%. This is a sharp contrast from just five years ago, when bottles accounted for 40% of national beer sales.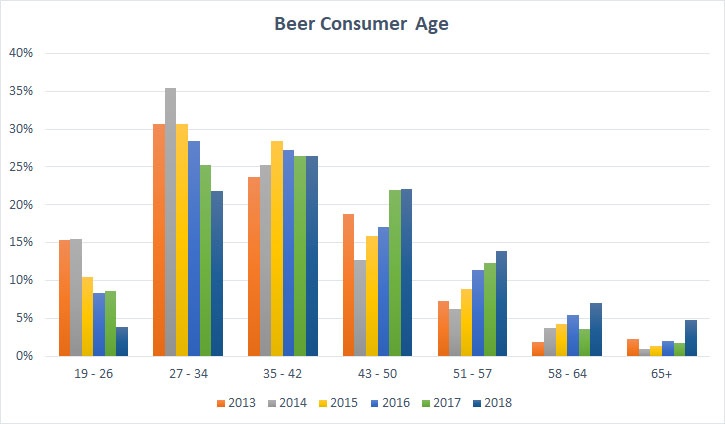 The Canadian brewing industry continues to be an environmental leader. Since 1990, greenhouse gas emissions in brewing facilities declined by 58.4%. Over the same time period, energy use in brewing facilities went down by 48.5%. Company initiatives aimed at improving production practices to reduce our industry's environmental footprint have contributed to these impressive improvements.
---
Interview with Mr. Josh Hayter
Arcus: What would be the top challenges that craft beer faces today?
Mr. Hayter: The government, 100%. There are a lot of hoops you must jump through to be able to sell alcohol. It is a regulated industry, if you want to get in, you must do the work. The problem is, you can follow all the rules, jump through all the right hoops and have your products either delayed or delisted from a group of stores.
Arcus: The distribution centre is not efficient enough to process it well?
Mr. Hayter:  There's basically a small team that does all the ordering for craft beer in Ontario. Distribution is a bottleneck for timing and for volume.  You get a huge push for long weekends, especially Canada Day. With beer, you could have the flashiest ad campaign in the world, but if they can't taste it, they won't buy it.  You've got to get people to taste the beer. The way consumers shop at the LCBO is they take 2 of these, 2 of these, 2 of these.  They fill up their cart.  Most people have a couple of brands that they are pretty loyal to, or a couple of styles.  They'll buy those beers.  They'll try other beers, they'll take 2 cans of that, but when they are at home their behaviour is different than when they are out.  When they are at home, they buy the brands they are most loyal to. You might be a closet Alexander Keith's fan, but if you're going to a picnic or a BBQ and taking beer, you'll take craft beer along. 
Arcus: Would you say most consumers categorize beer when they buy, whether it is a stout, a white beer..
Mr. Hayter: Absolutely. They go from pale ale or a stout, whatever they like. My favourite beer is from another brewery, but I really like it, Crazy Canuck from Great Lakes – I'll buy my Canuck, but I'll also try a couple of other pale ales that are in the aisle. I did the review site for so long; I try a whole lot of different beers.
Arcus: What % of consumers buy by subcategory over those that would just buy by brand.
Mr. Hayter: It's a toss up. It goes seasonally. In the fall and winter, people buy more stouts and brown ales, in the spring and the summer they like more lagers and pilsners. Lagers always sell.
Arcus: Is there anything else?
Mr. Hayter:  Regulations are a challenge. If you are starting out as a contract brewer, you can get listed at the LCBO and you can get listed at grocery stores through the LCBO and you can sell at bars but you cannot go to the Beer Store unless you turn your books over. It's an all or nothing thing.  
Arcus: Why do they need your books?
Mr. Hayter: Because they have to audit. Then the government has mandated that the Beer Store has to have 20% of their planogram set up for small breweries. They turn around and they say Moosehead, which is out of province, and Brick, which is in province, when they combined make more beer than most craft breweries. Basically, Brick products and Moosehead products each get 5% of that 20% for small breweries. It leaves Ontario craft breweries fighting over that last 10%. It limits all contract brewers.
The first thing I did when I was out of stock at the LCBO was call the beer store and said I wanted to pay a listing fee and list at 100 stores in 2 weeks. They realized that we are a contract brewery and are building a huge facility in Kingston, but I can't list until then. The Ontario Craft Brewers Association also won't take you in. There are 85 members. There are literally 100s of brewers in Ontario, but they won't let them in because they are brewing on contract. They have amended the rules to say if you are in the process of building, you can become a member, they will add you in.
They claim to speak for the Brewers of Ontario when they have less than 30% of the brewers that are actual members. It is 5 or 6 of the big breweries that control it for everyone. It would be good for the industry as a whole if they had more brewers on board.
Arcus: Your comment is about contract breweries versus bricks and mortar. Is it stifling innovation – is it having an impact on innovation?
Mr. Hayter: Absolutely. The system is stacked against contract brewers. Most breweries welcome contract brewers. Contract brewing is more expensive than brewing on your own, and it should be, because those people paid for their equipment and you didn't. That's why we're building our own facility. On top of the fact that you're paying more to produce your beer, you're stifled in the marketplace. We're at our peak of where we can be at contract brewing, that's why we're building. Otherwise it stifles the innovation.
Arcus: Let's talk about distribution from breweries to retail to restaurants. Can you comment on the landscape and how it's changing?
Mr. Hayter:  A lot of people are moving to logistics companies. The really small brewers will do all their own deliveries.  They have their own  van on the street that goes around to licensees and direct delivers to LCBOs.  They have 6 in their area that carry their product and they deliver directly.  As they get bigger, it becomes cost prohibitive and you need a place to store it.
There's a couple of big companies, Tymax, Coolhouse there's a few others around, that will do those deliveries for you. And storage for you. For a cost, but they're providing a service. The other options for doing delivery is going direct through the LCBO's warehouse and they'll handle the grocery stores for you, too. Or if you're in the Beer Store, they will do all your deliveries for you. They'll charge a fee, but they do everything. Bars, restaurants, retail, everything. They have a service where they will take all of that over for you. They will even deliver to the LCBO.
Arcus: Talk about financials. Margins, spreads.
Mr. Hayter:  My margins are razor thin because I'm more money on to create my beer.  I am spending more money on things people don't think of, like packaging.  I have to pay the brewery that is making and packaging my beer.  Spend more on storage.  More on delivery.  Once you open the doors on your own shop, your margins double.  The problem is coming up with the capital, especially in the Toronto area, to start your own brewhouse.  What a lot of people are doing are putting in cheap Chinese steel.  I know some craft brewers that started that way because it is the only way they could afford to start, but it breaks down and introduces risk into the supply chain.  If everything isn't perfect, it is a spot that can be missed, and it will affect your beer. It can happen to anyone. My start up costs, I am doing a $3Million build that's because we were fortunate enough to get good investors and secure the financing for the rest  Not everybody can do that.  Which is why most people start at contract. For $50,000 you can start your own brewery if you have a recipe.
Arcus: Distribution, Coolhouse and others, play a role in accelerating the business?
Mr. Hayter: I moved to that model because we got to a point where it was unsustainable for us to deliver the beer ourselves. Not only are we delivering to Toronto, my beer is sold in Toronto, Ottawa, Kingston, Thunder Bay, all over the province… trying to do that yourself, trying to scale up, the cost is just too much. Some of the big guys can do it and they've invested in it. [Beaus] distribute for themselves and others (Wellington).
Arcus: How are brew pubs and the restaurant business driving change?
Mr. Hayter:  Brewpubs – they have a production facility and produce their own beer that they sell in their own restaurant. Those guys are good, but they tend to have only their own beer and a couple from others they like from time to time.  
Arcus: Is that impacting the market?
Mr. Hayter: Absolutely. With our facility build, I have a taproom. I can sell retail directly out of my own facility and it helps when you're able to do that. Regular bars and restaurants can drive, but so can consumers when they say they want good craft beer. It's education, some consumers don't know the difference between a shock top and a side launch wheat. A lot of these places, you've got the big guys like Molson and Labatt, give us all your tap space and we'll give you a bunch of craft beer places that we bought. Most consumers don't realize who they're owned by because they're not local folks.
Arcus: Some breweries… bottle draft beer in front and carry it to your car.
Mr. Hayter: That market is growing. The problem is that the beer starts to go in about 48 hours. It can quickly go bad. You are seeing people experiment with resealable cans, use smaller growlers, but it helps but you're not allowed to do that at a regular bar, you have to be a brew pub.
Arcus: 95% of wine is consumed within 8 hours of purchase – what is the consumer behaviour with beer. There are not a lot of brew pubs around.
Mr. Hayter: There are more popping up. I could have done my whole build out for $500,000 and it's costing me almost 3 million. I'm leasing the building but had to put in floor drains and pumps.
Arcus: Brewing beer is cheaper than setting up a winery?
Mr. Hayter: You don't have to set up a farm to grow grapes. I pick up my malt, it is delivered in 1000 pounds sacks and in 2 years I'll have a grain silo that is filled. You cannot just open a winery and here are the grapes… you could buy grapes and the juice, but it would take away from it if you just bought the juice.
In some cases, there are similar things, you have to ship the product around. Shipping wine is probably more expensive too, because it is heavy. In the U.S. they are moving to another model where vineyards are canning their wine. There's a vineyard that wants to be the first in Ontario to be canning their wine. We are going to do a concerted effort to go to PEC to tell them that we Can their wines.
Arcus: It appears there are 3 blocks – government, distribution and margins. Other drivers are the dynamic of craft brewers/contract/brew pubs/global companies. Meeting consumer need, ignorance of what is local?
Mr. Hayter: We don't have the money to compete with global. I'll go in somewhere and they'll have a single tap, I'll install the double tap line as long as you keep me on tap. Labatt will say they'll come put in a whole new fridge and then you take only our beer. It's not legal, but… all craft brewers do things like you give free t-shirts to give out to customers, that's Marketing. For Canada, Molson's, for a local restaurant, for Canada Day gave a canoe to raffle off. I don't have a canoe… It's a level that craft brewers can't compete on. It's tasting. If you like light lagers, Canadian is a light lager. If you put it next to a craft brewer's product, you can tell the difference.
Arcus: As consumers get more educated, is that a strength?
Mr. Hayter: Absolutely that they're being educated on the taste. That's why Molson bought Creemore, because they made good beer. Some of the brewers will cash out, some will keep up the good fight.
Arcus: Names that have been around that have not sold out.
Mr. Hayter:  Great Lakes, Wellington, Amsterdam, Black Oak… So many craft brewers – it's great. What it does is it raises the public's IQ about craft beer and gives more choices.  Once you try one and like them, then you'll try more.  Some are great and some aren't so good, like any other industry.  Small brewers all compete with each other, but we work together and try to help each other out.  If someone has something that breaks, another will loan it out.  We're competing for tap space but all of us together are competing against the big guys.
---
Disclaimer: The opinions expressed in this publication are solely those of the interviewee. They do not purport to reflect the opinions or views of Arcus or its associates and partners.
---
Services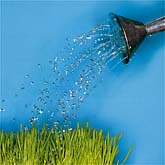 Arcus offers clients a unique combination of fact-based industry knowledge and superior functional expertise. Our consultants have an average of over 22 years experience, twice the industry average. Find out more about our growth, change management and operations services. At Arcus we believe that a strategy is only as good as the results it delivers. Strategic outcomes are most predictable and effective when companies develop a portfolio of initiatives that are aligned with core competencies and aligned activities enable the company to offer a superior value proposition. Please contact Arcus for case studies and to discuss how we can help you.
---
Service coverage
The variety, breadth, and depth of the projects where Arcus can be a resource are made unique by each client's specific needs. By providing a very small sample of projects we've completed, we can help you understand how and when to use our services. Visit the links below to find out more about a specific problem or opportunity you would like to address.