The Arcus Pandemic Preparedness Audit includes:
Establishment of a steering committee or lead individual
Business impact analysis
Business continuity contingency plan
Readiness procedures
Quality assurance
Our focus is on managing the risk and significant economic implications of a pandemic on your business operations. The effort to avoid infection can be significant without a pandemic plan. An Arcus survey during the SARS pandemic indicated that 60% of the costs related to a pandemic are allocated towards efforts to avoid infection, 12% toward mortality related issues and 28% towards illnesses and absenteeism.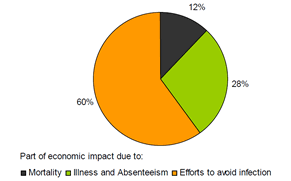 Efforts to avoid infection give rise to most of the costs during a pandemic
The business impact analysis provides the organization with a list of critical services and identifies how disruptions will affect internal and external stakeholders. The analysis involves several steps, including:
Creation of a Pandemic Preparedness Planning Committee: A committee will be composed to analyze and problem solve any risks the organization may face in an outbreak of H1N1 virus.
Scenario Planning: A review the mandate of your organization and determine which services must continue during an emergency for each service, identify the impact of a disruption and the length of time the organization or the community could function without the service and additional expenses that arise due to the loss of service and intangible expenses such as loss of image or reputation. This will also require identification of any insurance requirementsA rank of the critical services according to the severity of impact a disruption would cause, time required to recover from the disruption
Contingency plan: Identification of internal and external requirements for providing the internal services (employee availability, equipment, facilities, vehicles, etc.) and external services (suppliers, utilities, transportation, etc.)