Learn about attitudes to green products and services
  Refine your marketing strategy
  Realize how green issues impact specific business categories
  Create a customized green marketing strategy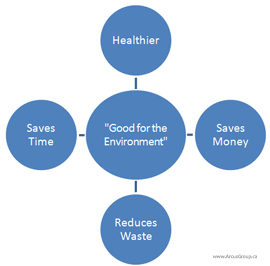 Extract:
The Arcus Green Business study found that only 17 percent of consumers are passionate about environmental issues—while 24 percent have virtually no interest. For most companies, green products represent only a "niche" opportunity. Yet, they are investing heavily in "green" marketing campaigns- a puzzling development. 45% of consumers feel "highly concerned" about environmental issues, but only 26% feel highly knowledgeable about environmental issues. And only 24% feel they can make a difference when it comes to the environment.
Contact Arcus for:
A presentation on the Arcus Green Business Report
A consulting engagement to develop a business and brand growth strategy
A strategy planning workshop on green marketing
What is the Arcus Green Business Report?
The study examines how green attitudes affect specific business categories. From the automotive industry to home building to energy, the Arcus Study helps marketers discover who is green and the green attitudes that are most likely to lead to specific shopping behaviours.
Concern about environmental issues is running high in the country today, but people are notorious for espousing pro-environmental attitudes and intentions that never translate into changes in lifestyle or purchasing patterns. The Arcus Green Marketing Study examines this disconnect and explores the impact of the current green movement in the marketplace in context of our clients marketing challenges.
Today's green marketing realities fly in the face of conventional marketing wisdom. The fact is people don't buy products. They buy solutions to problems. But since most consumers don't see the environment as a problem, green marketers must take an extra step, helping them not just to understand the problem, but to actually care about it.
Methodology
Nationally representative sample of 2,465 adults, ages 18+ and 1,200 business leaders.
Data collected via 60-minute online questionnaires and 30 minute follow-up interviews.
Business Implications of Climate Change
A survey of 1,200 business leaders on economic, environmental, and social performance.
The Arcus Climate Change Survey investigates the state of corporate efforts today to deal with the threat of climate change, focusing on what action is or isn't being taken to reduce carbon emissions. The in-depth study covers six topics of substantial interest to business leaders:Regulation, Reputation, Consumers, Compliance, Government and Extent of action. A total of 72 data points are available in the study.
Please contact us for a presentation of key findings to your organization.