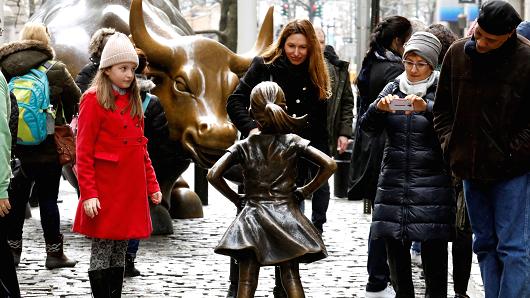 People look at a statue of a girl facing the Wall St. Bull in the financial district of New York. (CNBC)
---
International Women's Day is an important event each year. To draw attention to the role of women in the workplace, a Wall Street firm on Tuesday put up a statue of a girl in front of Lower Manhattan's well-known bronze charging bull, as if to fearlessly stare it down. Much the same as the charging bull, the little bronze girl by artist Kristen Visbal was put up in the wee hours of the morning as "guerilla art". The bull, sculpted by Italian-born artist Arturo Di Modica, was initially taken down after he quietly placed it in front of the New York Stock Exchange in December 1989. But it was later given a
permanent home, about a five-minute walk away on Broadway, in response to public support.
This appears to be a way of calling attention to the lack of gender diversity on corporate boards and the pay gap of working women. The discourse on gender equity hasn't translated into action at a broader level in Canada.  By not fairly rewarding the performance of female employees and overlooking them for promotions and leadership, Canadian organizations risk passing up an enormous talent pool, as undervalued women look elsewhere.
Arcus surveyed 455 senior management executives at Canadian public, private and non-profit organizations last month and found that organizations with greater gender equality in leadership outperform those with low gender equality. But to achieve equality at the executive level, women need to be recognized and rewarded for their performance at all levels.
The Arcus survey also found that organizations with programs and policies in place to promote gender wage equality and the advancement of women are more likely to attract talented employees of both genders. Gender wage equality and the advancement of women also lead to better employee engagement, productivity, innovation and revenue growth.
---
Lets look at some of the statistics:
Statistics Canada data shows that, on average, a Canadian woman working full-time earns just 82 per cent of what a Canadian man does each week, and that gap grows larger with age and income level.
Women's Progress in reaching senior management positions has stalled. Men are two to three times more likely to be in a senior management position than are women. Women hold 35.5% of all management positions and 33.3% of all senior management positions.
The World Economic Forum puts Canada in 35th spot in its latest gender-gap report, down five places from last year. The UN's gender-inequality index shows Canada in 25th place, down from its first-place ranking in 1995. The report comes as Canada has tumbled in international rankings on gender equality. Canada ranks 28th of 34 Organization for Economic Co-operation and Development countries for gender wage equality.
Canada has a national goal of 30% women on boards by 2019. There is just one woman CEO on the Canadian TSX 60. In 2014, Women held 20.8% of board seats at Canadian Stock Index Companies.
The Canadian Securities Administration recently released summary results of its most recent report on women in board and executive positions at Canadian stock-issuing companies. The news isn't good. The number of board seats occupied by women inched forward from 11 to 12 per cent. At the executive officer level, numbers were stagnant, with no gains in the percentage of companies with female executive officers.
Arcus estimates that $57 billion in income – about 3 per cent of Canada's $1.8T GDP – is lost to gender wage inequality each year.
---
Contact Arcus for a presentation of the gender equity survey to your management team and to learn how you can deploy a gender equity plan at your organization within your annual HR and Performance Improvement strategy – for your Employees and Board.