HCM Implementation planning. Management by Objectives – Planning and Execution. A strong strategic plan is not enough to guarantee success. Organizations succeed based on how well they execute their objectives; whether or not the objectives they have chosen make a significant difference to their business; and whether or not they have successfully linked these objectives to their corporate missions. Arcus has a unique approach to HCM Implementation consulting.  We partner with our clients for the long term. This increases the probability of success because we share in the risk of the programs we recommend. We follow Management-By-Objectives (MBO) and Benchmarking Process (BP) methodologies that create mechanisms that link corporate missions with objectives and measurable activities by which progress can be evaluated. MBO and BP help to bring focus on end goals and drive measurable performance within organizations.
---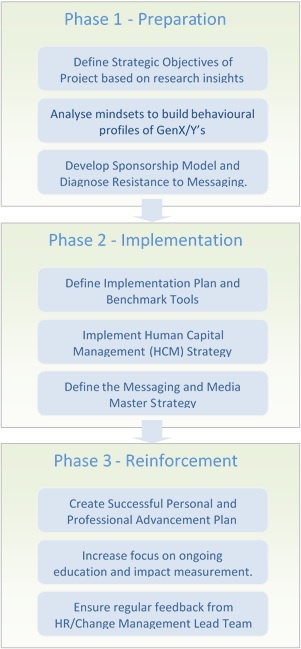 To ensure that strategic objectives are being met, Arcus constantly monitors and evaluates the effect of their strategies on overall performance. But measurement for the sake of measurement is not a universal remedy. Careful consideration will be given to measurement and evaluation of the specific areas that are most critical to the success of the products and services. Effective planning identifies overall business direction and opportunities, and concomitantly establishes indicators and targets for the organization to move towards. By working as an extension of the management team, we will guide the team from assessment and evaluation, through planning and implementation, to monitoring, evaluation, and adjustment of its operations.
Our approach to Change Management programs: A successful change initiative is one that balances the people and business side of change. By understanding the link between working effectively with others and the dynamics of the organization, your company will be able to overcome management challenges, implement strategic initiatives, capture business opportunities and much more. Our change management model helps organizations to successfully manage change by developing employee skills, knowledge, behaviors and attitudes required to implement the business change. The most common method for building knowledge among employees is through structured training and education programs.
---
Human Resources Consulting Services
What drives a great HR strategy? We have found that the most reliable and persuasive HR strategies are built on the intersections of the company's capabilities, uniqueness and seamless execution. Businesses have to address a unique set of barriers that often require deeper insight. Arcus offers a fact based approach to align an organization's strengths with customer needs.
Learn more about our Human Resources services:
FOR BOARDS
FOR SENIOR EXECUTIVES AND HR LEADERS
Dealing with complexity, constant change and resource optimization are priorities for growing for-profit and non-profit organizations. Change requires best practices in organizational effectiveness and flexible leadership. CEO's need to learn about how to leverage best practices for effective change within their organizations. Benefits include substantial shareholder value, lower costs and streamlined businesses.
Our change model is based on practices of HROS (highly reliable organizations) in sectors with complex operations such as healthcare and nuclear energy. These organizations follow proven methodologies because human errors can have potentially catastrophic consequences. The comprehensive approach integrates process and human dimensions of change. Please review a few sample projects to learn more about our approach on an engagement.