This is part of Arcus's research series to guide business leaders with strategic business scenarios to explore post-Covid.
The virus
The bad news is that COVID-19 is not going to be contained globally. The decent news is that some countries have done some things correctly to slow the spread of the disease for this Season. Hindsight will be 20/20 on this one and there will have been mistakes made, however, in our opinion, slowing COVID-19 will eventually be found to have been impossible.
Why? Basically, three reasons for such a fast spread:
1) It appears there is a long period of time (more than 72 hours) when one has COVID19 and is infectious to others. Hence, the 14-day quarantine model being used. However, there have been cases where individuals have been asymptomatic for up to a month.
2) Initial data shows that 80% of people get a mild to moderate illness, about 15% of people experience a severe illness and 5% get labelled critical. Hence, there are people sick but not sick enough to avoid others.
3) Countries such as Spain, Singapore and South Korea have seen a surge of cases soon after reopening their economies.
Hope is not a strategy
Leaders need to look at good-better-best scenarios using available insights and facts to determine strategies.
In the months ahead, the most important variable for business and government will be containment of the spread of the coronavirus and progress on potential treatments or a vaccine. As JPMorgan's John Normand outlined in a note published earlier this month, the emerging dominant narrative is "starting to latch onto rapid development of COVID-19 therapeutics and hopes for a vaccine, and therefore fewer public health risks to reopening economies and a quicker return to normalcy."
Even though there are good reasons to be skeptical that other countries will follow China's normalization path closely, it has stirred the debate of a V versus U-shaped recovery in economies and markets – a familiar topic from every recession. For growth, V-shaped patterns have emerged after six of the past seven recessions, meaning that real GDP recovered to its pre-recession level in the same number of months or fewer than the recession's duration.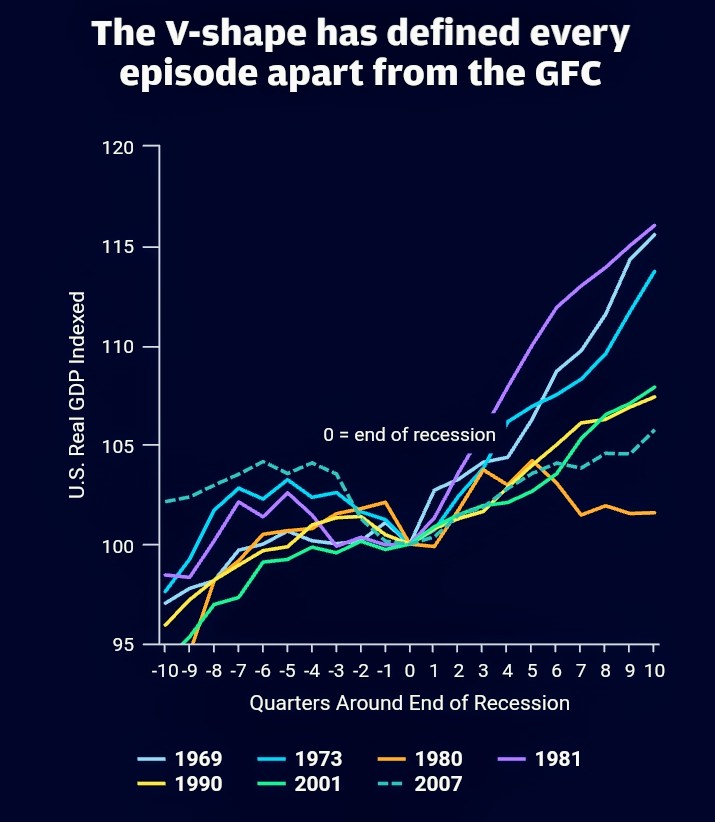 Where recessions have persisted for a year on average, only nine months were required to return to the previous level of output. The exception was the post-global financial crisis (GFC) experience, which lasted for 18 months but required 21 months to return real GDP to its pre-crisis level. The jobs recovery post-GFC took even longer. About six years were required to return the unemployment rate to its pre-crisis level, so about three times as long as the recession itself.
Unemployment rates have risen dramatically
As for the economic fallout, that's horrific in its own way. Canada shed three million jobs in the last two months with the unemployment rate up to 13.1% April from 7.8% in March. A record 20 million Americans lost their jobs last month. Unemployment spiked to 14.7%, the highest it's been since 1939 (17.2%), and we're likely to approach or exceed the ignominious record of 24.9% in 1933 during the depths of the Great Depression. These losses are heavily driven by the physical limitations or self-imposed social distancing during the pandemic.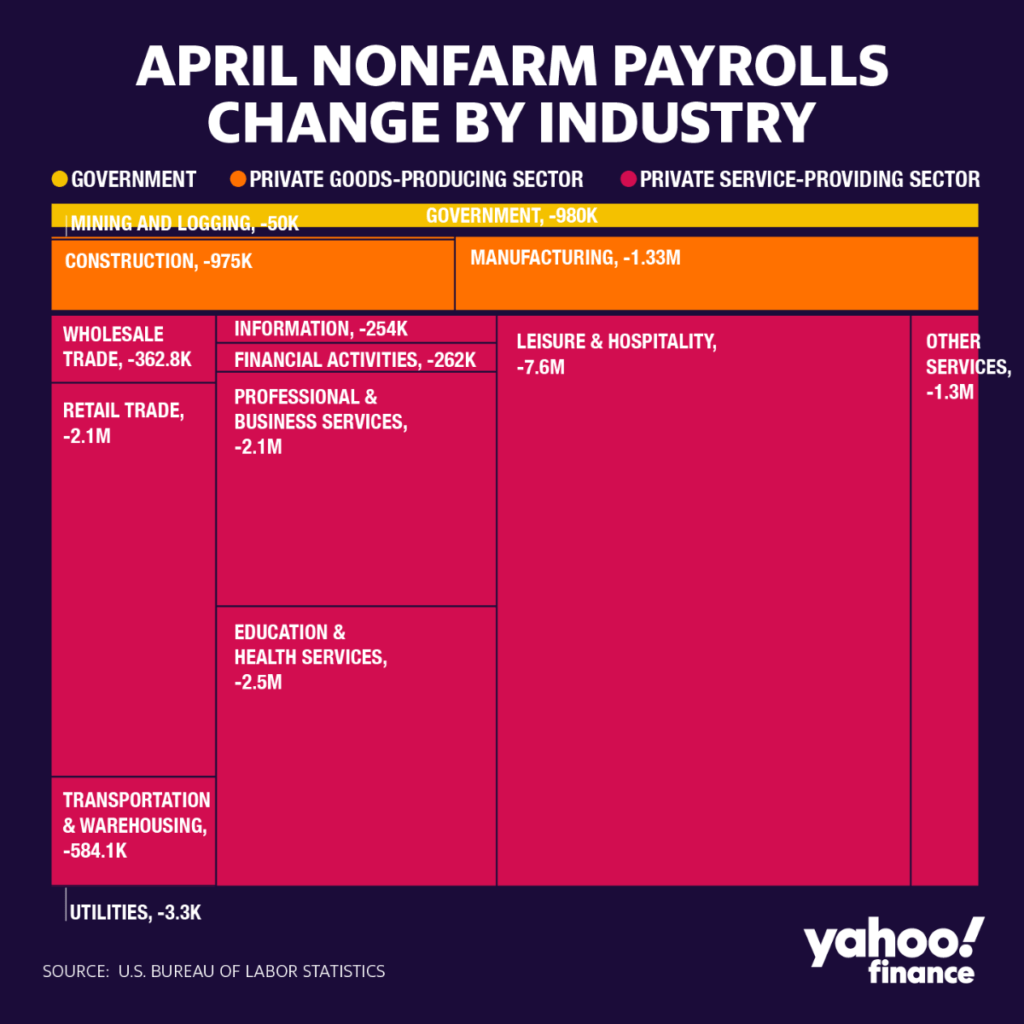 What's truly terrifying about the job losses is how across-the-board they are. It's not just restaurant and hospitality workers. Manufacturing and even health care are getting hit. Another bad sign is that people are self-reporting their condition of unemployment as 'temporary' but as Neil Irwin of the New York Times points out, it's hard to see how so many unemployed people won't lead to a drop in demand which will make the downturn and employment worse.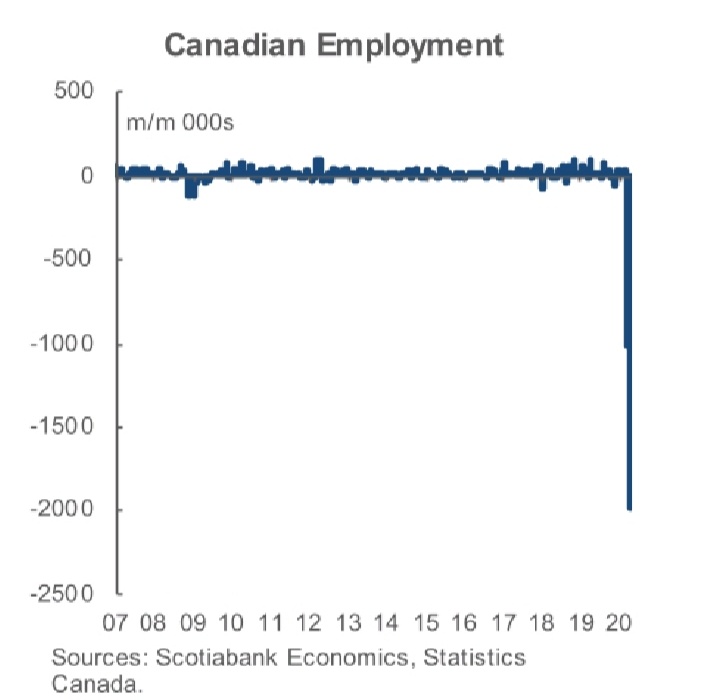 However, the stock market is a forward looking measure and indications are that a U shaped recovery is more likely than a V or W shaped recovery. However, in view of surges Covid cases on reopening economies it's likely that a Sine wave is likely to be the norm of ebbs and flows with regard to economic activity.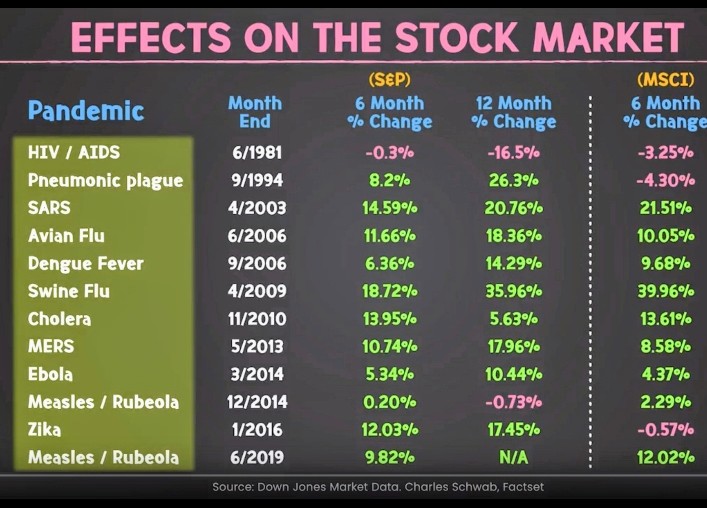 The big question the April jobs numbers raise is this: Will there be enough demand in the economy — whether through government spending or a private sector snapping back into action — to ensure that sectors far from the epicenter of this crisis can make it through without the temporary layoffs becoming permanent?
The anticipation of a U or V shaped recovery has resulted in heightened media coverage.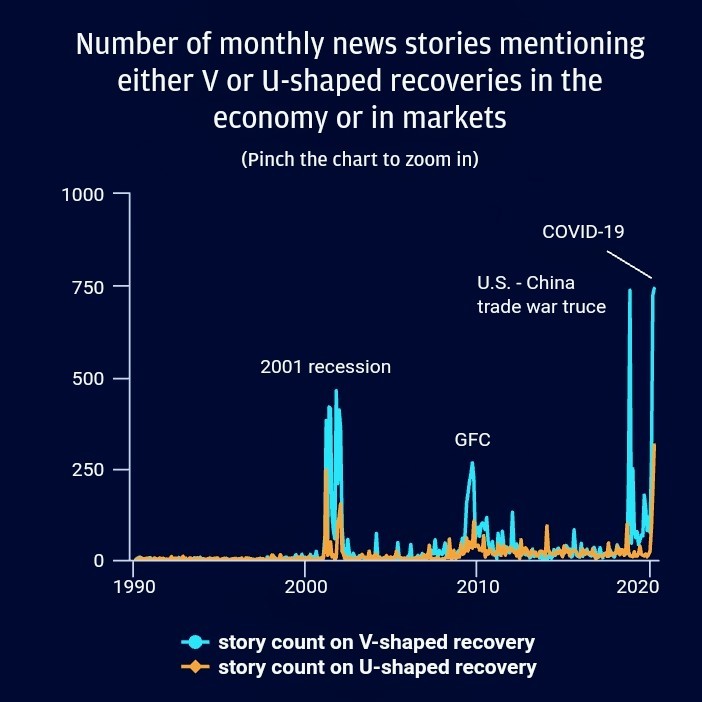 When will this end?
A lot depends on how well the virus is contained. A better question might be: "How will we know when to reopen the country?" In an American Enterprise Institute report, Scott Gottlieb, Caitlin Rivers, Mark B. McClellan, Lauren Silvis and Crystal Watson staked out four goal posts for recovery: Hospitals must be able to safely treat all patients requiring hospitalization, without resorting to crisis standards of care; the government (1) needs to be able to at least test everyone who has symptoms; (2) is able to conduct monitoring of confirmed cases and contacts; and (3) there must be a sustained reduction in cases for at least 14 days.
Let's first look at the 2018-19 Flu Season: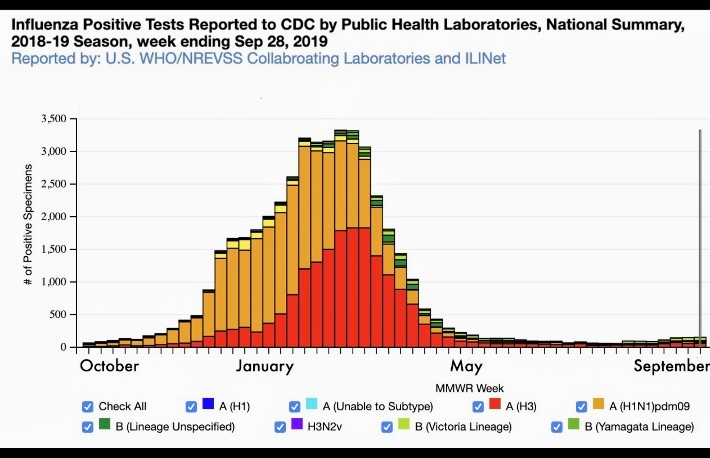 Adapted from: National, Regional, and State Level Outpatient Illness and Viral Surveillance
First, notice, the "Flu" is really a number of different types of Influenza with (2) major types for last year. The Flu Shot you may elect to get each year usually has the 3 or 4 most likely flu variants or types most likely to cause the flu illnesses that next season. While the 'effectiveness' of the flu shot bounces between 20% and 50% (2005-2018), millions of people likely do not get the flu or get a milder version of it because of the vaccine and transmission rates, overall, are slowed considerably. So, the above picture is a snapshot of the 2018-29 Flu Season.
This year is likely to progress like the 2019-20 Season: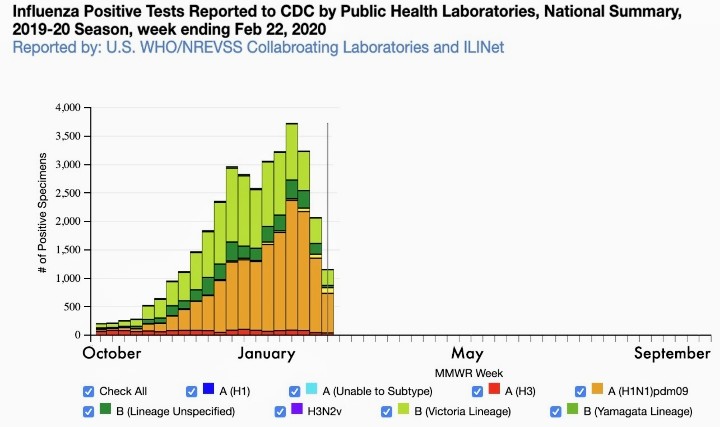 Adapted from: National, Regional, and State Level Outpatient Illness and Viral Surveillance
You see different colors in the bar graph for this year, a different curve and timing to the shape of the overall curve and basically, a different flu season compared to last year. We will all see how this cold and flu season ends but, in Arcus's opinion, even flu infections are going to fall off sooner and faster than last year because many people are being safer (because of the COVID-19 outbreak and the news cycles about it) and maybe Spring will get here earlier next year.
Long term care facilities
The majority of coronavirus deaths – 81 per cent according to Dr. Theresa Tam – in Canada are tied to outbreaks in long-term care facilities. The concentration of the virus at these facilities will require a greater focus on containing and localizing these outbreaks.
An acceleration of changes
Arcus research indicates that Covid will dramatically accelerate changes that have slowly been happening. The obvious ones are the demise of apparel retail and the mall, failure of small higher education institutions, rapid acceptance of tele-medicine and remote working.
And then there are some possible scenarios influenced by our collective experience with social distancing: city and high rise living will become less desirable, so will working in offices, riding mass transit, going to restaurants and theaters.
Impacted sectors are broadbased
In the US, in April 2020, construction employment fell by 975,000. Manufacturing fell by 1.3 million, as assembly lines halted. Clothing stores' employment dropped by 740,000. The motion picture industry cut 217,000 jobs, and truck transportation 88,000. Law firm employment was down 64,000 positions, and computer systems design by 93,000. Local governments cut 801,000 jobs, just over half of them in education.
And stunningly, in the middle of a public health crisis, employment in health care fell by 1.4 million as Americans avoided visits to their doctors and dentists for all but the direst emergencies.
During the week of April 12, in Canada, 1.1 million people were not in the labour force but had worked recently (in March or April) and wanted to work. They were not counted as unemployed but were counted as not in the labour force because they did not look for work, presumably due to ongoing business closures and very limited opportunities to find new work.
Across dozens and dozens of industries, only one added a meaningful number of jobs in April: general merchandise stores, including warehouse clubs and supercenters. In the US, these sectors increased their payrolls by 93,400 positions.
That makes sense given consumers need to buy groceries and other at-home staples, and Walmart has said publicly that it is hiring on a large scale to meet demand.
Pertinent questions
Some examples of questions from Arcus clients in some impacted sectors include:
1. How do restaurants make money with 50% less customers (i.e. socially distanced)?
2. How will commercial landlords managing offices with half the people working?
4. How will city transit systems adapt in a post Covid world?
So how to proceed?
Louise Sheiner, policy director for the Hutchins Center on Fiscal and Monetary Policy at the Brookings Institution has written an excellent paper, "The ABCs of the post-COVID economic recovery," which frames the various roads back. "The best economic outcome is one where the only GDP effects we have are from social distancing," Sheiner says, speaking to the snap-back theory which she considers unlikely. The worst scenario she says would be "a depressed economy where the virus doesn't go away, or people don't go to school for a long time, they're out of work a long time, and we lose human capital."
As Stacy Cunningham, president of the New York Stock Exchange, a leader on the front lines of this kind of decision-making said recently: "This is a very personal pandemic. It's impacting people, both their personal safety and their personal economics at the same time. And there's going to be personal decisions by how people want to choose to re-engage with society."
"I think we need to go very, very slowly with reopening this economy," says Melinda Gates in another interview. "We should be talking about what's safe, and what is the most safe for families. We successfully kept certain parts of our economy open; our health care system, grocery stores and pharmacies. What are the next safe places? How and where might you start to open things up?"
Contact Arcus for an online presentation on contingency and scenario planning for your organization based on best practices and surveys of over 2000 senior executives. Learn about HR planning, remote work strategies, plant scheduling, change management, communication and more.