A Sustainability Business Services survey of 1,200 business leaders on economic, environmental, and social performance.
Is your company prepared for a substantial escalation in operating costs due to new regulatory frameworks and carbon trading legislation? Arcus conducts one of North America's largest annual surveys of senior executives and consumers on climate change. Since 2007, 1,200 senior corporate executives and over 2000 consumers have taken part in the annual survey. Please contact us to order a copy of the report.
Learn about the carbon market and trends
Benchmark your organizations risk profile
Create a customized carbon reduction strategy
Waste reduction and sustainability implementation
Strategic and Business Plan Development
Clean Technology Expertise
Arcus Sustainability Business Services Report
Only 17% of consumers are willing to pay a premium for green products and services.  The Arcus Sustainability Risk Matrix is based on 72 variables to benchmark your company's risk profile and cost exposure against 2000 companies in 36 industries. Contact us for a customized carbon emissions audit for your company. Find out if your company is at extreme, moderate or low risk in preparedness for the new regulatory and compliance environment.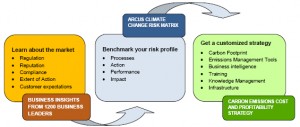 The Arcus survey investigates the state of corporate efforts today to deal with the threat of climate change, focusing on what action is or isn't being taken to reduce carbon emissions.
The in-depth study covers six topics of substantial interest to business leaders: Regulation,Reputation, Consumers, Compliance, Government and Extent of action. A total of 72 data points are available in the study.
Abstracts
Please contact us for a presentation of key findings to your organization.