1 million missed cancer screenings
An Arcus report detailing the impact of the COVID-19 pandemic on the cancer community, both in patient care and research practice, indicates that the pandemic has led to nearly 1 million missed cancer screenings in the past 12 months in Canada.
The report outlines the burdens patients and clinicians have experienced, as well as lessons learned throughout the pandemic. It concludes that there is an urgent need to build public health care infrastructure, support medical research and modernize the way patients receive care and take part in clinical trials.
---
Key findings from the Arcus report: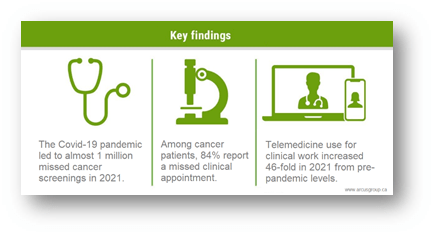 COVID-19 affected patients with cancer have experienced delays in diagnosis, treatment and it is lingering on because certain patients with cancer have lower responses to the vaccines, so they continue to be vulnerable for a long time.
Delays in screening, treatment
The pandemic has had a significant impact on patient visits to hospitals and clinics. For months, delays in screening, diagnosis and treatment occurred as a result of COVID-19, and these delays may continue to have negative effects on patient outcomes. The report cites a 26% increase in patients diagnosed with inoperable or metastatic cancer during March 2020 to June 2021 compared with the same period in 2019 because of scaled back referrals for preliminary diagnoses in cancer treatments (including chemotherapy, immunotherapy, radiotherapy and surgery); and over 1 million missed cancer screenings from January through December 2021.
Declines in surgeries
Canadian hospitals have performed 560,000 fewer surgeries since the start of the pandemic, compared with previous years. The largest decline occurred during Wave 1 while the system was adjusting to accommodate the anticipated large volume of COVID-19 patients.
On average, surgeries decreased by about 35,000 per month. The biggest decreases were seen in cataract surgeries (an average of 5,900 fewer surgeries performed per month) and hip and knee joint replacements (an average of 2,100 fewer per month).
Surgeries resumed to near pre-pandemic levels during the summer and fall of 2020 but declined again in spring 2021 as COVID-19 cases and hospitalizations surged, particularly in Ontario, Manitoba, Saskatchewan and British Columbia.
Emergency department visits
Increasing COVID-19 infections impacted emergency department visits and were down on average by over 20% compared with before the pandemic. Decreases were seen across all levels of triage (the prioritization of patients based on the urgency of their condition). However, the biggest drop in the number of visits was for those with the least-urgent conditions.
In terms of demographics, the largest decrease in ED visits (50%) occurred among children age 0 to 4. This could be due to parents avoiding care in the ED for less urgent conditions because of potential COVID-19 exposure, as well as reduced transmission of seasonal respiratory viruses stemming from public health measures (such as school closures, masking and social distancing). Patient hesitancy
The primary reason is patient hesitancy to visit clinical settings for tests and lockdown mandates. The question is how can hospitals and specialists communicate that science is not static? We are living through a period where we see science evolving. Populations who are medically underserved shoulder a disproportionate burden of COVID-19. They have also been affected more by disruptions in the cancer care continuum because of the pandemic.
One lesson from the pandemic has been that vaccine clinical research has accelerated. Decades of research into mRNA vaccines for cancer immunotherapies opened the door to ultra-quick development of the COVID-19 vaccines. The cancer field had been developing RNA vaccines for personalized patient vaccines, where they would take the sequence of the cancer and, in a period of just 2 months, turn it into an RNA vaccine.
---
About Arcus
Below is a sample of the range of services that Arcus has provided to clients. Please contact Arcus for case studies and to discuss how we can help you.
---
"Arcus manages to consistently deliver tangible results on market research and strategy projects. They combine deep business expertise, powerful research capabilities, and innovative thinking to deliver substantial value."
– Vice President, Nikon
---
Find out more about us. We invite you to learn more about us by exploring the links above. Email us for more information.